The Quest for USA-CA 2nd Time
QRO * QRP * QRPp
WD3P/QRPp/M
Page Three - Closing in on the Last Ones
The Cost of QRP
It had taken me four years to reach the final 100 to go QRO and the final 500 QRP. It would be more that two additional years before I finished the counties for the second time QRO. I still need one more to finish the job. By the time I had spend four years chasing in October of 2001 the counties QRP I had 2800 counties, and by the time I had spent 4 years chasing them QRPp in January 2002 I have over 2100 counties in the log. So four years of work had netted my all by the last 100, four years QRP had netted me all but the last 250, and four years QRPp had netted me all but 900 counties. Clearly going QRP had not cost me too greatly. Again going QRPp without relays was another story. This then was a time to play catch up with the counties QRP and especially QRPp while the last batch QRO were coming in slowly.
The little table below shows the best comparison of QRO vs QRP vs QRPp with the numbers in red showing the count each way with approximatly the same amount of time spend trying to get the counties each way. Even that is not a completely fair evaluation as getting the counties QRO always took first priority, getting the QRP always had a higher priority than getting them QRPp. And lastly I would never use relays to get them QRPp.
| | | | |
| --- | --- | --- | --- |
| Counties Worked | QRO | QRP | QRPp |
| January 1, 2001 | 2962 | 2651 | 1813 |
| October 1, 2001 | 3028 | 2829 | 2049 |
| January 1, 2002 | 3042 | 2877 | 2167 |
---
AK all QRP
Getting the first three Alaskan Judicial Districts came rather easily in the first year of working the counties QRP. I first picked up the 1st and 4th Districts from KV1M/M. The the third district came from KL7Y in the DX contest at the end of November 1998. The 2nd District had to wait another three and a half years. In June of 2002 Bob, N4CD/M headed to AK. I had very little success getting him in the other three districts. But the propagation was just right when he got to Nome and he made it into the log. The same fellow had given me the last county in both AK and HI. With those two states under my belt it was clear that getting the rest of the counties QRP was just a matter of time.
---
Slow but Steady Progress
From then on till late 2002 it was a matter of slow steady progress. I built an Elecraft K2 in the spring of 2000 and followed that up with an Elecraft K1 later that year. Once those rigs were completed they replaced the Sierra as the rig of choice for QRPp operations. I kept the Ten Tec attenuator on the K1 so it was used most of the time. The K2 would come into play is someone moved to 15 or 10 meters and I had to follow them. The TS 570S was used for QRO operations. It was also used when I ran QRP at five watts.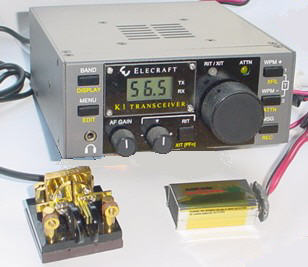 The Elecraft K1
With the G4ZPY Paddles
At the end of 2002 I needed only two counties QRO. I still needed 43 counties QRP. And QRPp, well that was far behind with 591 counties to go.
| | | | |
| --- | --- | --- | --- |
| Counties Worked | QRO | QRP | QRPp |
| January 1, 2003 | 3075 | 3034 | 2486 |
---
The Last Six for 2nd Time Around
The first of December 2002 found me with six to go to finish up the counties QRO for the second time. The first five came in quick succession during December and early January. The last one was Blaine, MT and took quite a bit longer.
Jewell, KS - The first of the six came on December 1, 2002 from WA7SLD/M, Jim. He was headed from AZ to WY. As you can see on any map KS is on a direct route form AZ to WY - hi, hi. Actually Jim is typical of many county hunters. He has checked the needs lists that are posted at one of the county hunter web sites and noticed that I was down to only a few to go, with just one left in KS. So he made a major detour to get it for me. For this QSO I ran a full five watts and got a signal report back of 559.


Echols, GA - The Second came from WG6X/M, Ray. Ray made several special trips for people. This one was on December 7, 2002. The timing on his travels was a bit tricky as my oldest son was taking his SATs that day. I took my son down to the test early and hoped that Ray would make it to the county before I had to go pick him up. Unfortunately he did not make there that quickly. So I threw my Elecraft K1 into the car with a set of NiMH batteries and listened in on the net as I drove. Sure enough just as I got into Waldorf in heavy traffic he called me. Now with a different set up and less traffic I can do CW while mobile. But this was not one of those times. It took me a couple of minutes to pull over into the local Home Depot parking lot and make the QSO. I ran three watts for that QSO and got a signal report of 599 back. I only wish I had turned it down to half a watt!


Evans, GA - This one also came from WG6X/M, Ray, as he continued his trip. The next morning I caught him in Evans, GA while I was running my more normal half a watt. This time he also gave me a 599 signal report. With this QSO he finished GA QRO. A little over an hour later he gave me Screven, GA when I was running half a watt to finish GA all QRP. Now had I been able work him the day before in Echols, GA with half a watt he would have also finished up GA all QRPp.


Jefferson, IN - On December 14, 2002 Jeff, W9MSE/M headed out from WI to finish me off all QRP in IN. First he had to give me the last in IN for second time. This one he did with Jefferson County. He gave my half a watt a 339. I would have kicked the power up if it had been necessary, but we made it. Almost three hours later he gave me Daviess County to finish the state all QRP. This time it took five watts to make the QSO.


Reynolds, MO - This county I managed to pick up from a resident ham. I had been sending out e-mails trying to pick up the last set of counties QRO and QRP. WA0ISE, Paul, responded to one of those e-mails and we pulled off a QSO on January 2, 2003 that finished the state of MO and gave me my next to last county for the whole of wax for 2nd time around.


Blaine, MT - The last one took eight months to get. Finally after missing it seven previous times due to poor timing and propoagtion over those eight months and after three weeks of planning Jim, K0EVE/M gave it to me on September 6, 2003. We picked a time near sunset here on the East coast as I had observed over the years that to be the best time for propogation into the northwest. I was running 5 watts from a K2 to a dipole for the QSO.


---
The Cost of QRP - Revisited
Well what about the QRP vs QRO comparison? Remember when I finished up QRO I will had spent about nine months less working the counties QRP. So the best comparison should be made nine months later. When I finished up I only needed 5 counties in 2 states to finsih up QRP. The QRPp count stood at 2,585 with 492 to go. The average power required to work a county for the 2nd time around was 1.16 watts. By state the average varies from a high of 12.4 watts for NV to a low of 7 mWatts for NH. Of the 50 States, 26 came in with an average power of under one watt. Two states came in with an average of over five watts to work a county - ID, and NV.
| | | | |
| --- | --- | --- | --- |
| Counties Worked | QRO | QRP | QRPp |
| September 6, 2003 | 3076 | 3073 | 2585 |
---
Contact WD3P at wd3p@arrl.net
---